This short guide will show you how to quickly print to the web templates from inside a rental transaction.
Using this method will NOT publish/sync changes. It will only pull up the templates with data from the last sync/update. If you have made changes and need to reprint you MUST USE the print web templates option.
Step 1:
Open the rental transaction you wish to reprint.
Step 2:
In the select report drop down select "Display Web URL".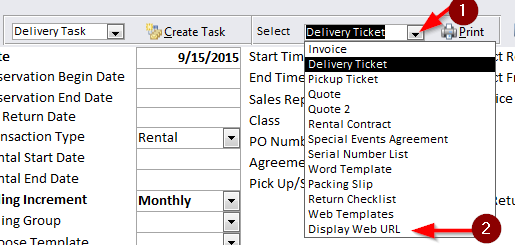 Step 3:
You will see a box pop-up and you can either copy and paste from the text field into google chrome or press the button "Open in browser". This will allow you to view the web templates without having to wait for it to sync the changes.