What is a QR Code?
A QR Code (it stands for "Quick Response") is a cell phone readable barcode that can store website URL's, plain text, email addresses, and pretty much any other alphanumeric data.


We are introducing QR Codes to make it easier to report a problem, track customers, track Inventory, and locations of inventory.
What does a QR Code look like? I am sure you have seen one lately they are on products everywhere, business cards, the products we buy and even on t-shirts.

Go ahead try it download a barcode scanner app on your cell phone and scan this QR code. It will take you to the store where you can purchase QR code labels.
We offer two add-on options with The Service Program – The Mobile Solution option for field users and MyCustomerConnect Portal and Online Store option for your clients and prospects. Both options are compatible with using QR Code Labels purchased from Westrom Software. Please contact our sales offices if you have any further questions and when you are ready to add either option.
Standard Labels sizes are 2"x 2"
Each label has a QR code large and centered.
On each label below QR code is a unique corresponding number. What we call "human readable" aka a string of numbers printed you can read with your eyes.
If you are interested in Customized Labels please contact our sales offices atsales@westromsoftware.com with your company contact and additional information below.
Customized Labels: addition information needed:
1. Min Order QTY are necessary for alternative sized labels.
a. typical Min Order QTY is generally in the 5K-20K labels range. Example for a .75" x .75" label – we can easily do that, but the manufacturing facility generally wants to run enough to make it worth it. Typically we can run these pretty inexpensive.
2. For anything custom with company logo etc., need estimated label QTY of each preferred size. Please provide 3-6 month supply, or year supply to make it financially attractive.
3. Application specifics for each size (i.e. will this be attached to molded plastic, metal, glass, will it be on a curved surface, will it see extreme heat, etc..)
4. Lead times. Generally 20-30 business days.
** Labels are a special order item designed and printed for your company and therefore are nonrefundable.
QR Code Features

• Made of Waterproof/weather proof material for long lasting adhesiveness
• Attach labels to customer equipment
• Attach labels to Rental Equipment
• Attach label to a customer for stop verification
• Geo-reference where all your equipment is located
• Customers can scan and open a task for that equipment
• Tech can see service history on the Equipment
• Create a quote instantly
• Scan QR Code and pull up customer information (if you have credentials)
• Labels as low as .48 per label
• Tech Portion requires Mobile Solution
• Customer task creation requires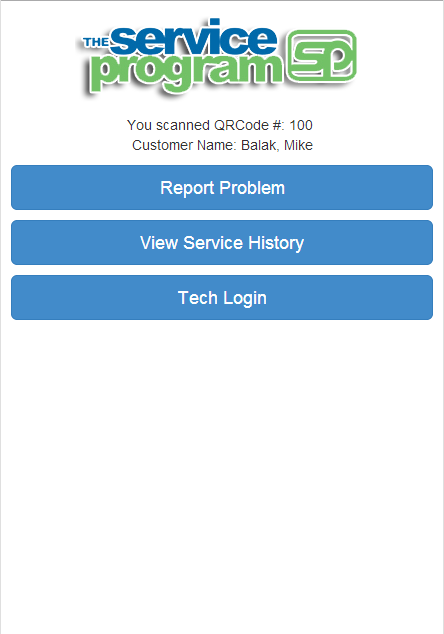 When the code is scanned this screen will pop up.
From this screen the person who scanned code can
Report a problem
View the service history
or a tech can log in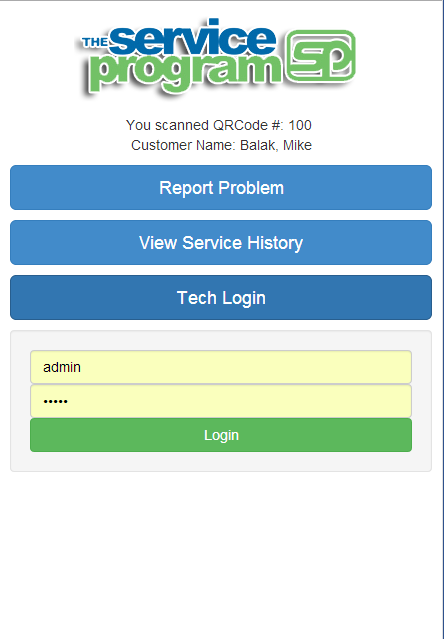 Once a tech logs in with their credentials they can work the ticket.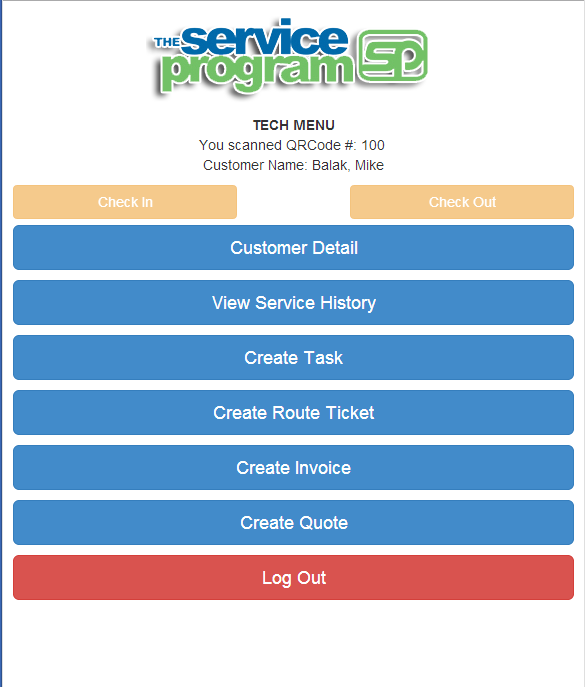 A tech in the field can even assign what a QR code does.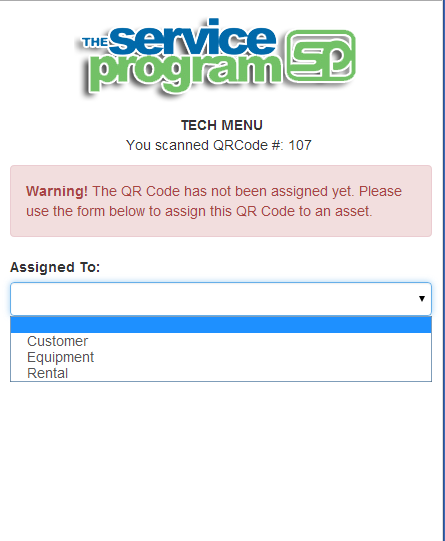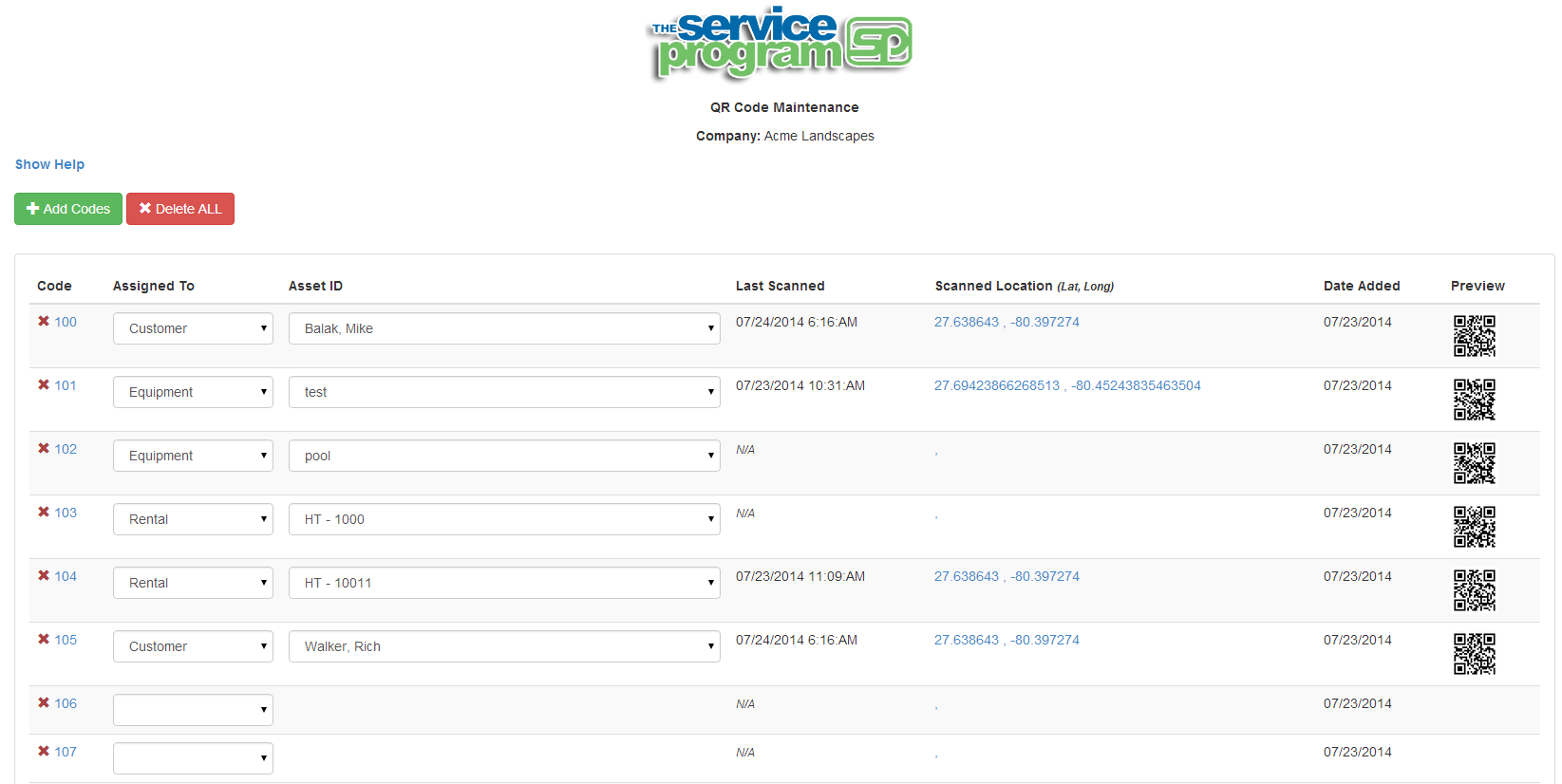 This screen is on the desktop and can be used to assign QR Codes to customers, equipment, or Rentals.