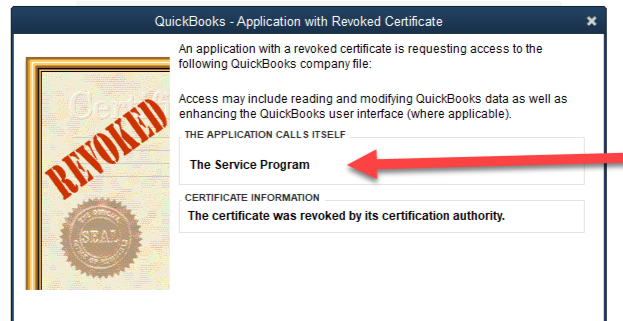 On 8/22/23 we started receiving numerous reports of errors syncing with QuickBooks due to a revoked certificate. This issue was caused by Intuit and they have since released an official fix outlined below.
Link to Official Intuit Help Document:
https://quickbooks.intuit.com/learn-support/en-us/help-article/web-integration/fix-error-quickbooks-application-revoked/L6Y849bKg_US_en_US?uid=llnqzzw9
As of 8/25/23, you can now resolve this issue by updating to the latest release of QuickBooks if you are running QuickBooks 2021, 2022 or 2023 (including Enterprise).
Go to

Help

and select

Update QuickBooks Desktop.
Select

Update Now,

then select

Get Updates.
When the update finishes, close and reopen QuickBooks.
When asked to install the update, select

Yes.
When the install finishes, follow the on-screen instructions.
If you have QuickBooks 2020 or OLDER (including Enterprise) you will have to perform the fix manually following the steps below.
BEFORE FOLLOWING THE STEPS BELOW, MAKE SURE YOU ARE DOING THIS ON THE PC WHERE THE SERVICE PROGRAM OR ROUTESTAR WEB CONNECTOR APPLICATION IS INSTALLED ON.
You can verify this by going to the start menu and searching for "Web" to open the Web Connector Application. If you see an application listed similar to below then you are on the correct PC.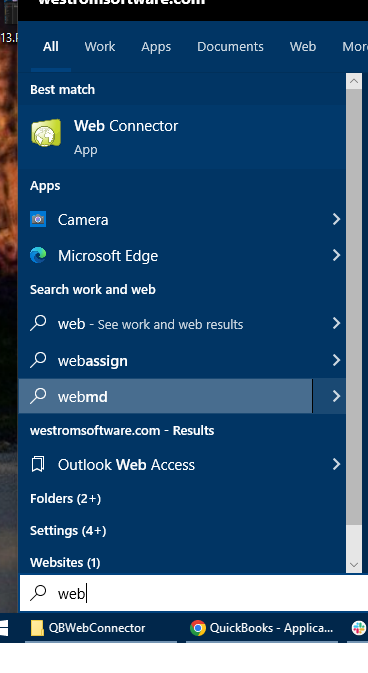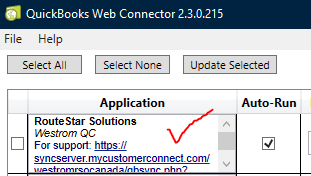 Step 1: Close all versions of QuickBooks and the Web Connector completely.
Press

CTRL,

ALT

and

Delete

on your keyboard at the same time.
Select

Task Manager.
Make sure QBW.exe, QBW32.exe, QBWCMonitor.exe and QBWebconnector.exe aren't running.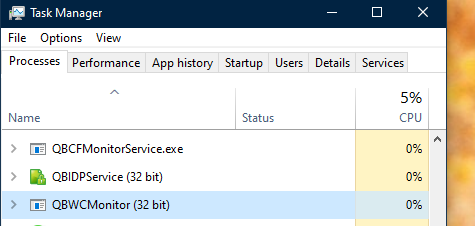 Step 2: We now need to find where the web connector is installed.
Open File Explorer and we are looking for a folder named QBWebConnector. It will be in one of the locations listed below depending on if you have 64 or 32 bit Windows.

64 bit Windows - C:\Program Files (x86)\Common Files\Intuit\QuickBooks\QBWebConnector\
32 bit Windows - C:\Program Files\Common Files\Intuit\QuickBooks\QBWebConnector\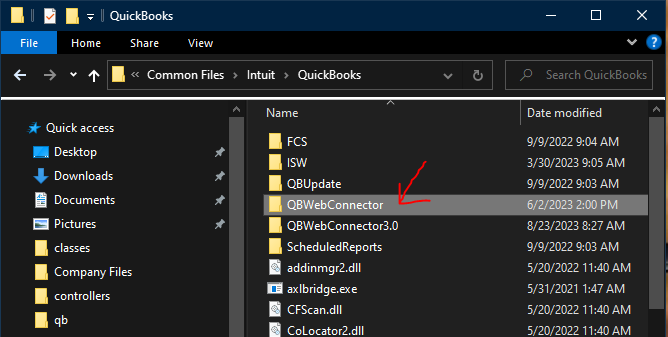 Open the folder shown above and right click on the QBWebConnector.exe icon and select Rename.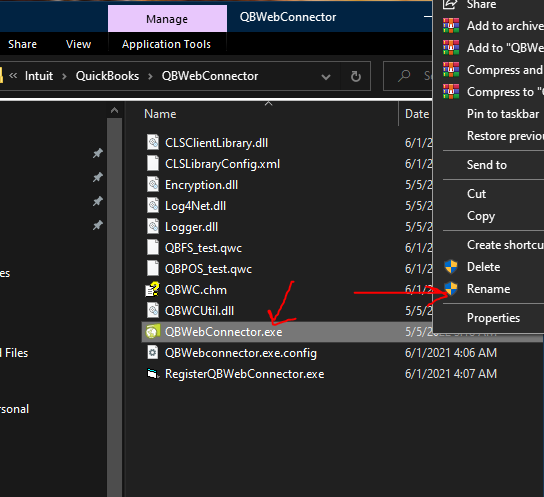 Rename the program QBWebConnector_old.exe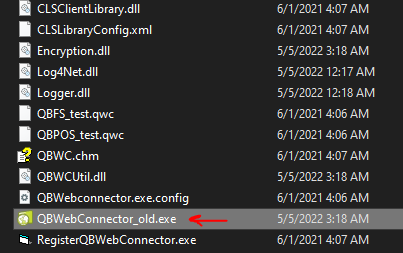 Step 3: Download the updated/fixed web connector directly from Intuit. (The links to the files below download directly from Intuit).
Select the your version to download the QBWebConnector.exe. If you have more than one version installed select the download for the latest version
Step 4: Once the file above has downloaded, open your downloads folder and right click the QBWebConnector.exe program and select Copy.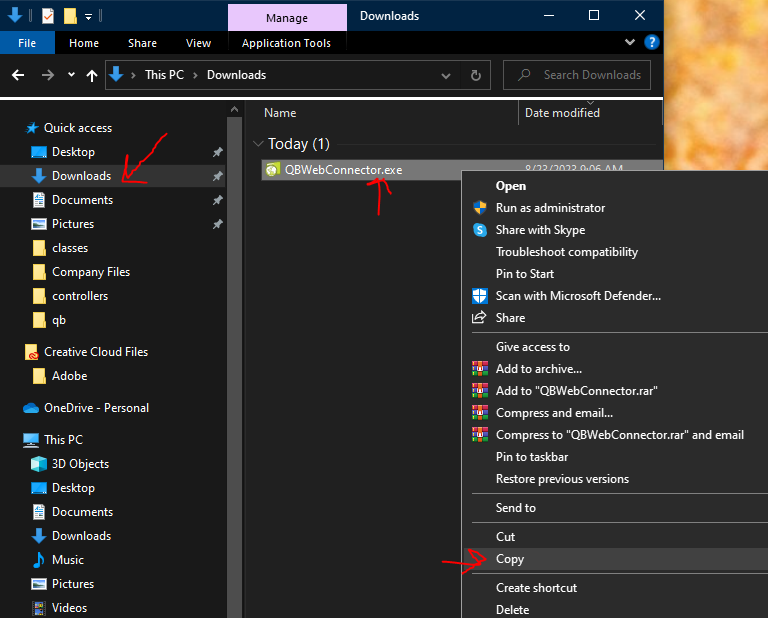 Step 5: Go to the same folder from Step 2 and right click and select Paste.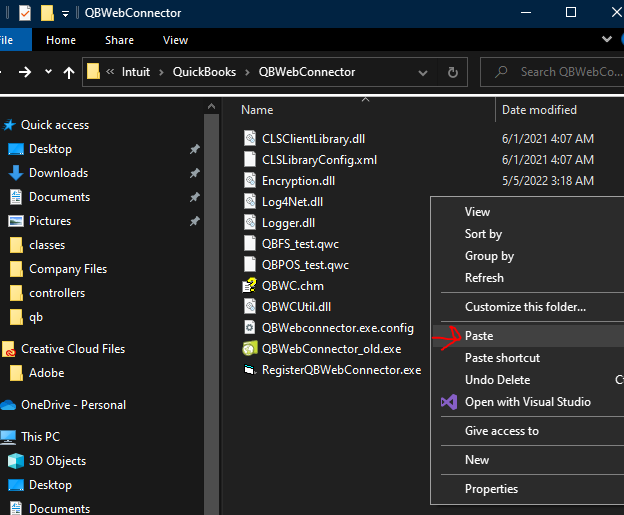 If prompted by UAC that you need permission, press continue, you may also be prompted when pressing continue to enter your computers administrator credentials.
The folder from Step 2 should now look similar to the picture below.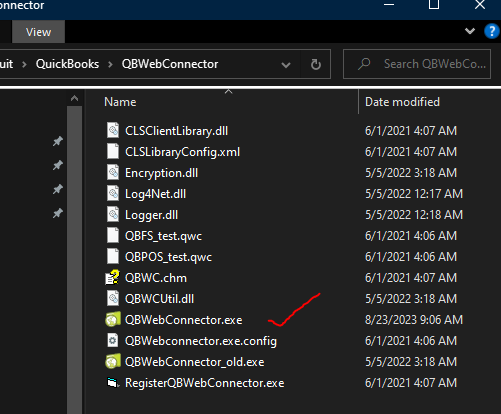 Step 6: Re-Open QuickBooks and login using the credentials of the admin account in QuickBooks. In most cases the username is admin unless it was changed when you setup your company file. We recommend also switching to single user mode after logging in this one time before following the remainder of the process.
Start a manual sync of the web connector by going to either options below depending on your version of QB to open the web connector and start a manual sync.

File->Update Web Services (QB 2020 and Older)
File->App Management->Update Web Services (QB 2021 and newer)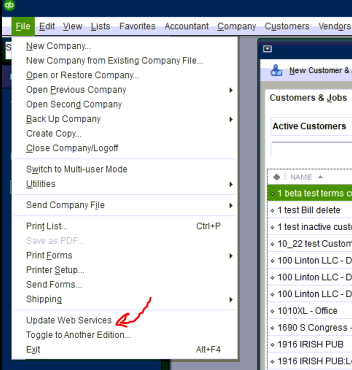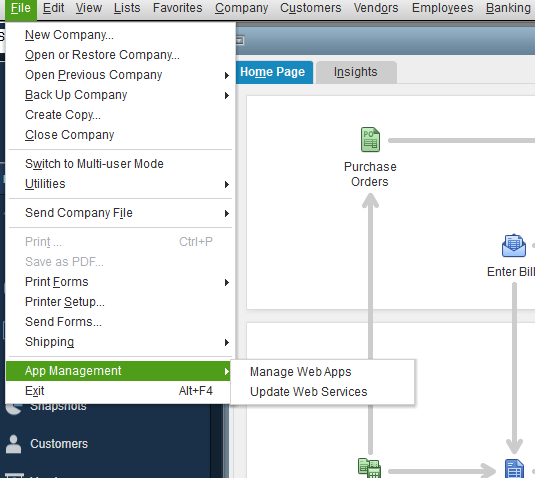 Follow the Prompts to re-authorize the web connector with QB as shown below. Select Yes, always allow even when QuickBooks is not running.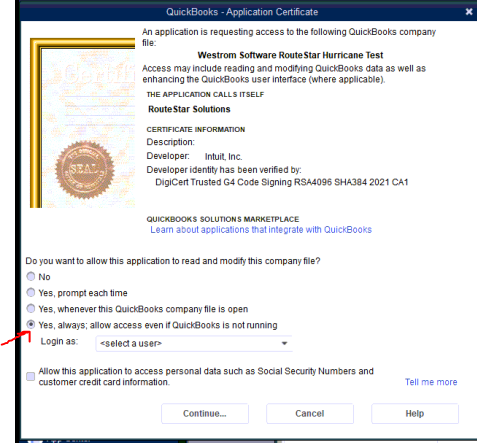 Press Yes on the popup you will immediately see upon checking the option above.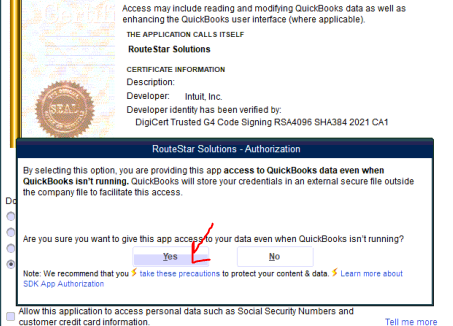 Then select either TSPOSync or RSOSync as the username in the dropdown, if you do not see those options, select the "admin" username followed by pressing Continue at the bottom of the popup.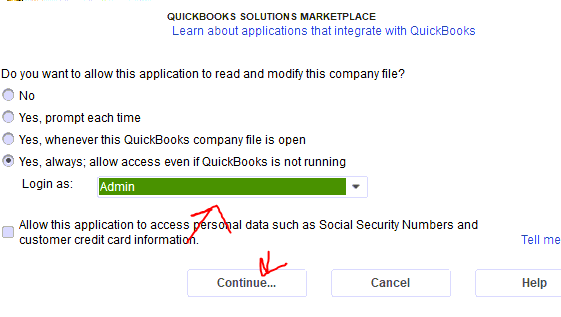 Now in the last popup press Done and you should see your web connector start syncing again.